Choose Your Wine Club Membership
Learn how much FUN wine is!
Understand why you like certain wines and how to navigate the isles and vast menus. You might become … dare we say… a wine snob. We schedule many tastings per month so you can have a Rott n' Good time with wine!
A 2-month minimum is required to start your membership*. After that, it's month-to-month.
Monthly Memberships & Benefits

RnG Big Dog

$75

Bottles per Month
(preselected)

2

Admission to monthly wine tasting

Free +

Admission to patio/weekly wine tasting

Free +

% Off Tab On-Premise**

20%

Case Discounts
(6 bottles or more)

Additional Guest(s)

50% Off
The fine wine print:
Minimum of 2 months on initial sign-up required

. Startup membership charges include the first two consecutive months. *This sale is final; no cancellations or refunds. Post-startup, membership is month-to-month. Changes to your membership must be communicated prior to the 1st of each month. No exceptions. The December holiday event is for members only (no guests).
**Percentage off bar tab is on-premise only. Specials are excluded from additional discounts. Member benefits can not be extended to another. Space is limited for wine tastings so
RSVP is required

. $5 corking fee of club wines on premise. No refunds on start up membership.
Pick Up Policy:
Monthly wines are available for pick up the evening of monthly tasting and after. Due to limited storage space, we ask your assistance in retrieving your wines on a monthly basis. Monthly wines not picked up after 3 months will be forfeit unless other arrangements are made.
April

Loscano & Piattelli Vineyards
Grant Jennings is back and presenting award-winning wines of Argentina!
Monday, April 25
Tuesday, April 26
2 sessions each night
6:00 PM or 7:45 PM
May
"Orange is the New Red"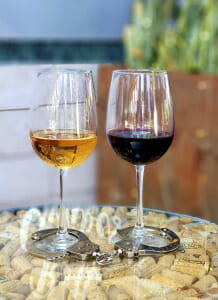 Monday, May 23
Tuesday, May 24
2 sessions each night
6:00 PM or 7:45 PM
June
Pounders II
Rise of Taste
Monday, June 27
Tuesday, June 28
2 sessions each night
6:00 PM or 7:45 PM
Wine Tastings are *FREE*
for Wine Club Members
December's tasting is a special, one night event.